Tent High Peak 20X60 Enclosed Tent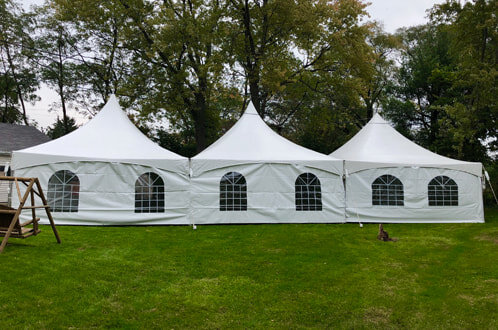 Description
This 20×60 High Peak Tent can accommodate up to 160 people! Includes setup!
The Tent High Peak 20X60 Enclosed Tent is the perfect solution for outdoor events and gatherings. With a spacious 20X60 footprint, this tent provides ample room for guests to mingle and enjoy the festivities. The high peak design not only adds an elegant touch to your event, but also allows for maximum headroom and ventilation.
The tent is made of durable and weather-resistant materials, ensuring that your guests stay dry and comfortable even in inclement weather. The enclosed design provides added privacy and protection from the elements, making it ideal for weddings, corporate events, and other special occasions.
Overall, the Tent High Peak 20X60 Enclosed Tent is a reliable and stylish option for any outdoor event. With its spacious interior, weather-resistant design, it's sure to make your event a success.