Tent High Peak 20×20 W/Windows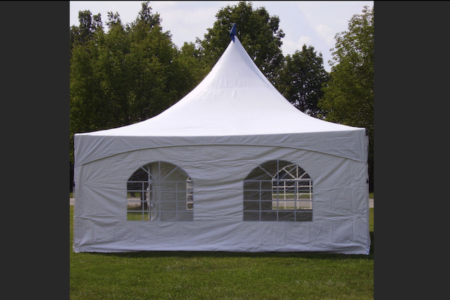 Description
Each 20×20 Tent accommodates approximately 45-50 people. Tents can be connected to make 1 Large tent for more people.
Looking for a high-quality tent that can withstand various weather conditions and provide ample space for your outdoor event? Look no further than the Tent High Peak 20x20 with windows!
This tent features a sturdy frame made of durable aluminum that can withstand strong winds and heavy rain. The high peak design allows for maximum headroom and ventilation, ensuring your guests stay comfortable even on the hottest days.
The tent also comes equipped with windows on all sides, providing natural light and a beautiful view of the surrounding scenery. The windows can be opened or closed depending on the weather, allowing you to customize the environment inside the tent.
Measuring 20x20 feet, this tent can comfortably accommodate up to 40 guests or provide ample space for dining, dancing, and other activities. It's perfect for weddings, outdoor parties, corporate events, and more.
Don't settle for a subpar tent that won't hold up against the elements. Invest in the Tent High Peak 20x20 with windows for a high-quality outdoor event experience.