Mickey Club House 13×13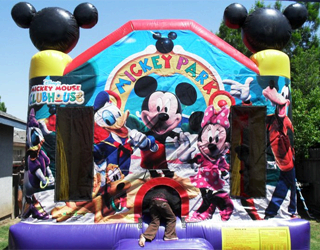 Description
The Mickey Club House 13x13 is the perfect addition to any children's party or event. This inflatable bounce house features a vibrant and colorful design that will capture the attention of young guests. Measuring 13 feet by 13 feet, this bounce house provides plenty of room for kids to jump, bounce, and play.
Crafted from high-quality materials, the Mickey Club House 13x13 is safe, durable, and built to last. It comes equipped with safety netting on all sides to ensure that children can play safely and securely. The bounce house also features a convenient entrance ramp, making it easy for kids to enter and exit the play area.
Whether you're hosting a birthday party, school event, or community gathering, the Mickey Club House 13x13 is sure to be a hit with kids of all ages. So why wait? Order yours today and get ready to provide hours of fun and entertainment for your young guests!