35ft Elegant Tent Globe Lights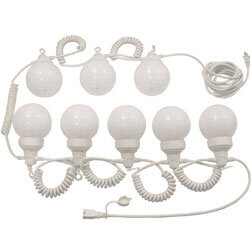 Description
These beautiful bright Tent Globe Lights will light up your tent to elegance. A total of 3 strands are needed to fill each 20×20 Tent.
These lights are the perfect addition to any outdoor event or gathering, adding a touch of elegance and ambiance to your space.
Our globe lights are designed with durability and style in mind. They are made with high-quality materials that are built to withstand the elements, ensuring that they will last for many events to come. The 35ft length provides ample coverage for most outdoor spaces, making it easy to create a warm and inviting atmosphere.
These lights are easy to install and can be hung from any tent, tree, or structure. The soft, warm glow of the lights creates a cozy and inviting atmosphere, perfect for weddings, parties, or any other special occasion.
So if you're looking for a way to add some extra charm to your outdoor event, look no further than our 35ft Elegant Tent Globe Lights. Order yours today and start creating the perfect ambiance for your next gathering!